"Sea Turtles"
Click on each picture to view a larger image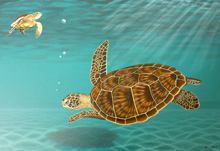 In this painting I attempt to capture the grace and beauty of Loggerhead Sea Turtles in shallow water. To master the detail of the light reflecting on the ocean floor I closely studied the bottom of a pool as I swam laps.
"Tortoises A Step Forward"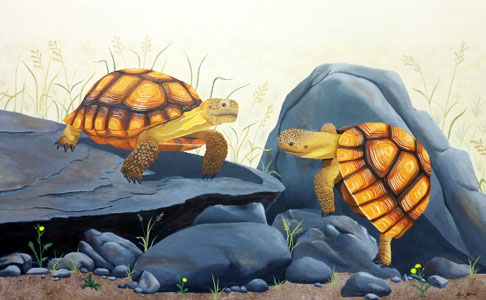 This earthy coloured painting depicts the special bond between two Desert Tortoises where one encourages the other. To me, it brings to mind the saying " Winners never quit and quitters never win". It was inspired by a client seeking good feng shui energy for her home and family. Tortoises are a symbol of protection and longevity and are considered guardians of good feng shui energy. I painted this for a lovely lady and I hope it brings good healthy and stability to her home.
"Australian Landscape"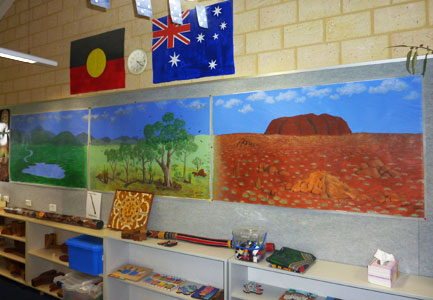 I painted this Australian landscape for the kindergarten at Eden Hill Primary School. Measuring 4.5m in length it displays the diversity of Australia's landscapes and provided a fantastic background for the kindy kids to add their own artwork to.
"Rowing Alone"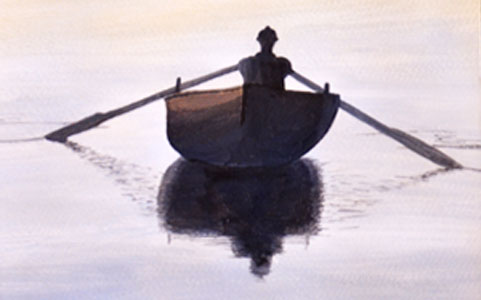 Inspired by the beauty of the Adriatic Sea, this painting came from a photograph I took while travelling along the coast of Croatia of a lone fisherman at dusk.
"Lake Sunset"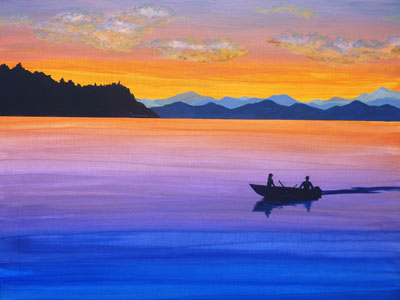 Apart from painting I am also a passionate fisherwoman and here I paint a couple out on a dinghy at sunset, capturing the spectacular beauty and vibrant colour of the sky and its reflection.
"Hasankeyf"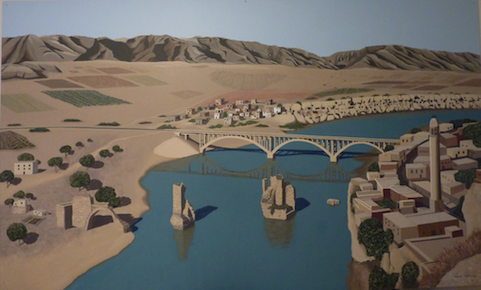 Drop in to Ankara Kebabs & Bakery at 807B Beaufort Street in Mt Lawley to see my 3m x 1.8m mural of the ancient town, Hasankeyf in Turkey, where the shop owner and his family originate from. You can enjoy the painting while you sample their delicious food, including the best spinach & feta Gozleme I have ever had.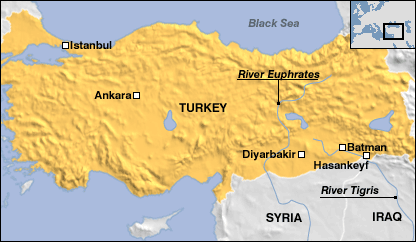 Hasankeyf's history stretches back over 12000 years. Located along the Tigris River in southeastern Turkey, the painting captures the limestone cliffs home to thousands of manmade caves with the rising Raman Mountains in the background. You can see the remains of the Old Tigris Bridge, thought to be built in 1116 it is considered the largest from the Medieval Period. Support for the bridge was built with wood in case the bridge had to be removed in order to prevent an attack. Two massive stone piers and one arch all that remains of the old bridge today, now replaced by a modern bridge crossing the river upstream. Although there are numerous mosques throughout Hasankeyf, the mural captures the magnificence of the tall El Rizk Mosk, built in 1409.