"Pirate Party Room"
Click on each picture to view a larger image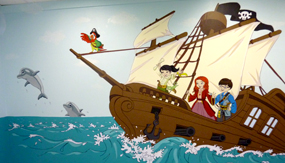 Pirate Mural at Whitford's Chipmunks Play Centre
The Pirate party room was designed to suit both boys and girls, and displays a spectacular ocean scene of Mimi, Maddi & Arthur, some of the Chipmunk's Franchise characters sailing toward a beach on a giant 2.5m high pirate ship. Back on dry land at the back of the room, they are greeted by Charlie Chipmunk and Captain Max's warm birthday wishes. Max holds the flag up above the head of the birthday child as he/she sits in the special birthday Charley chair at the head of the table. Please note my apologies for the blurry image of the actual characters on my website, this is required to avoid copyright issues.
On the left hand wall Charlie and Tikiwi dance around a treasure chest loaded with birthday gifts. The entire mural is 55m2 and includes amusing crabs, pirate parrots and coconut palms. But the best part is the surprise the kids get when in comes the birthday cake and normal fluorescent lights are replaced with ultra violet. Now the wall truly comes to life with the use of special UV paint. Out bursts a hidden man in the moon, the ocean waves light up and other features magnificently glow in the dark!! Watch your child's face stare in wonder at this awesome sight. I can do glow in the dark images for your child's bedroom too.
You have to see it to believe it so visit this fantastic play centre Whitfords Chipmunks at 37 Endeavour Rd, Hillarys, Perth and ask to see the Pirate party room. See their facebook page for location details
Chipmunks Whitfords
Testimonial Page
Chipmunks.com